In the Media ARCHIVE
---
Grexit fears spark gold rush at BullionByPost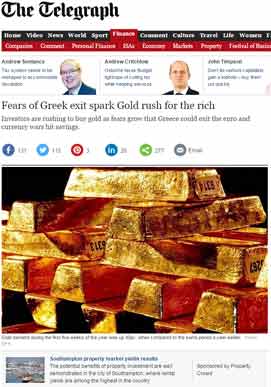 BullionByPost featured in this weekend's Sunday Telegraph as panicked investors rushed to buy gold bullion on growing fears that Greece could be forced out of the Eurozone.
The exclusive report for the Telegraph revealed BullionByPost has experienced one of its highest spikes in demand in its six year history, with sales for the first five weeks of 2015 up 40% compared to the same period in 2014.
Demand for 1 kilo gold bars, worth around £26,000, has increased by 74% compared to the same period last year. The highest demand has been for the 2015 gold Britannias, worth an estimated £860 each, with a typical customer purchasing up to 20 coins.
February 2015 | The Sunday Telegraph and Telegraph Online


---
BullionByPost make Fast Track 100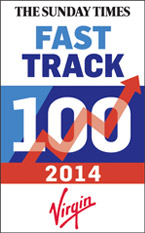 BullionByPost has made the Sunday Times Virgin Fast Track 100 league table for the first time ranking 63 for 2014. The Sunday Times Virgin Fast Track 100 league table ranks the UK's 100 private companies with the fastest growing sales over the last three years.

Click here to view the latest league table

Fast Track 100 is compiled by Fast Track and published in The Sunday Times each December and awards private businesses run by entrepreneurs, has between 20 and 500 staff with sales ranging between £5m and £100m.

Founded in 2008 by Rob Halliday-Stein, BullionByPost's sales hit £96m during 2014 achieving a 3 year average sales growth of 59.57%.

Click here to read more
December 2014 | Fast Track 100 - The Sunday Times


---
Scots flock to gold
Rob Halliday-Stein, founder and MD of BullionByPost, says the company saw a 41 percent surge in gold sales to Scotland last week as residents fear a "yes" vote in the referendum.

Watch the video on the CNBC website

Sept 2014 | CNBC


---

Turnover is vanity, cash is reality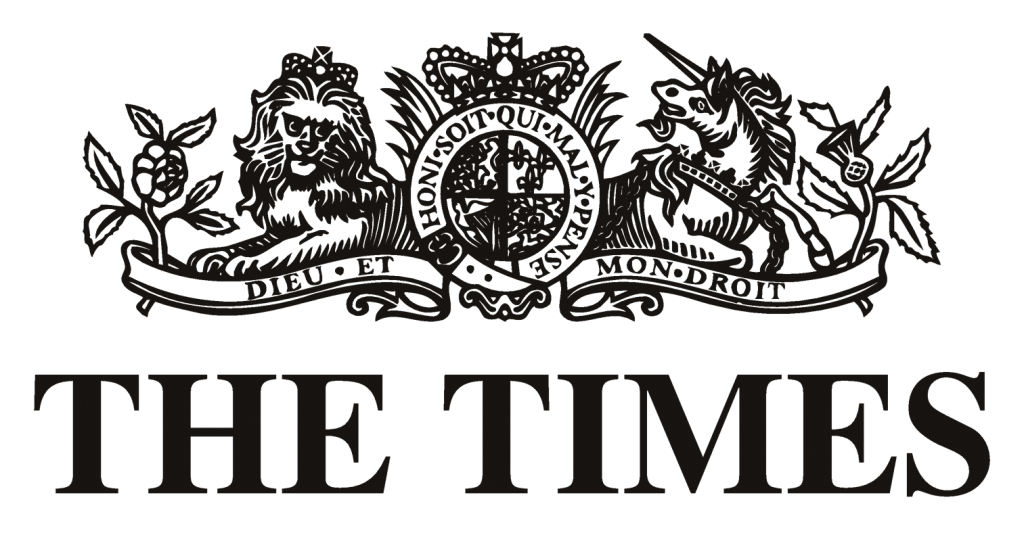 The saying that "turnover is vanity, profit is sanity but cash is reality" has never been truer for Britain's small and medium-sized businesses. Survey results published within the last week by Sage Group found that SME leaders say that the top challenge they face is controlling costs.
The Times speaks to ten business leaders including Rob Halliday-Stein, founder and Managing Director of BullionByPost, about controlling costs and understanding cash flow.

Rob Halliday-Stein set up BullionByPost in 2009 with just £10,000. This year the turnover is expected to exceed £100 million. Hardly an SME you might think, but Halliday-Stein deals in gold bullion. His is still a young, small business, operating on tight margin and has to watch the pennies like any other SME: 'Understand your costs. They are the key to cash flow,' he advises.
Read the full article on The Times website

June 2014 | The Times


---
BullionByPost founder named IoD director of the year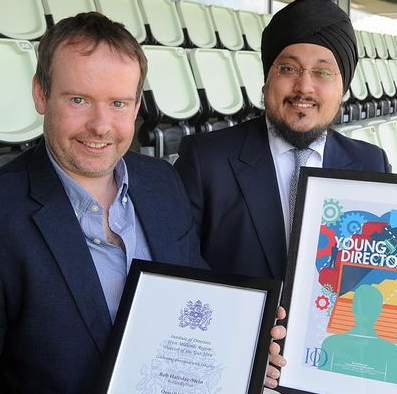 Rob Halliday-Stein, founder of BullionByPost, was named overall director of the year and also young director of the year by the West Midlands branch of the Institute of Directors (IoD) at its annual awards at Warwickshire County Club in Edgbaston.

Regional chairman Jason Wouhra praised Rob's entrepreneurial vision which he called a lesson to everyone who had a business idea and wanted to take it to market.

Rob Halliday-Stein founded the business in his home for £10,000 and now generates turnover of £120m. BullionByPost, the UK's No.1 online supplier of gold and silver bars and coins, was created when the founder, Halliday-Stein, spotted a gap in the market to provide bullion directly to the public.

Read the full article on the Birmingham Post website

June 2014 | Birmingham Post


---
Let's Hear It For Number Twos - The Deputies, The COOs, The Advisors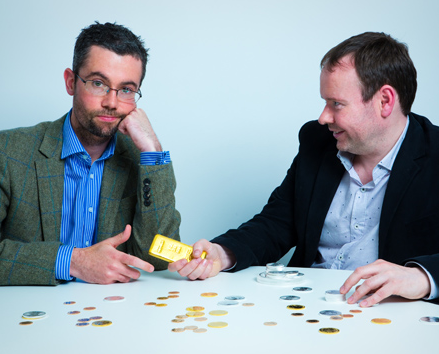 Many executives with the talent to go all the way have found operating behind the scenes as an adviser or deputy is just as fulfilling. We look at the discreet world of the consigliere. Management Today speaks to Finance Director of BullionByPost, Anthony Smiley, and Managing Director and founder Rob Halliday-Stein about the growth of the business and the importance of bringing in new personalities and complementing skill sets.
Rob Halliday-Stein launched Birmingham-based BullionByPost the following year and has expanded it into the country's largest online bullion dealer. To cope with the gold rush, Halliday-Stein decided to bring in an FD. He turned to his old school pal Anthony Smiley. The pair met when they were 11 and had stayed in touch.
'I wasn't just looking for someone with the right finance skills, I also wanted someone who would complement my personality,' says Halliday-Stein. 'I'm an entrepreneur, a risk-taker and an opportunist. I needed someone who would balance that. I thought of Anthony straight away.'

Smiley is definitely the sensible one in the relationship. Although they're both 36, Smiley acts like the older, slightly disapproving, brother. 'Rob's always coming up with new ideas; he'll have a lightbulb moment when he's on the train. He gets distracted very easily. I'm there to rein him in and keep an eye on the day-to-day operations. I like to have a check list and get things done.'
Read the full article on the Management Today website
June 2014 | Management Today

---

Rob Halliday-Stein joins Elliot Moss on Jazz FM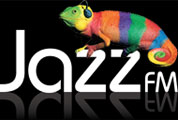 Founder and Managing Director of Jewellery Quarter Bullion Limited, Rob Halliday-Stein is interviewed by Elliot Moss on Jazz FM . Rob tells how he spotted a gap in the market and turned an initial £10,000 investment into a £100m a year plus business in five years.

Listen to the full interview on iTunes

May 2014 | Jazz FM


---

IN DEPTH: A bright future for silver?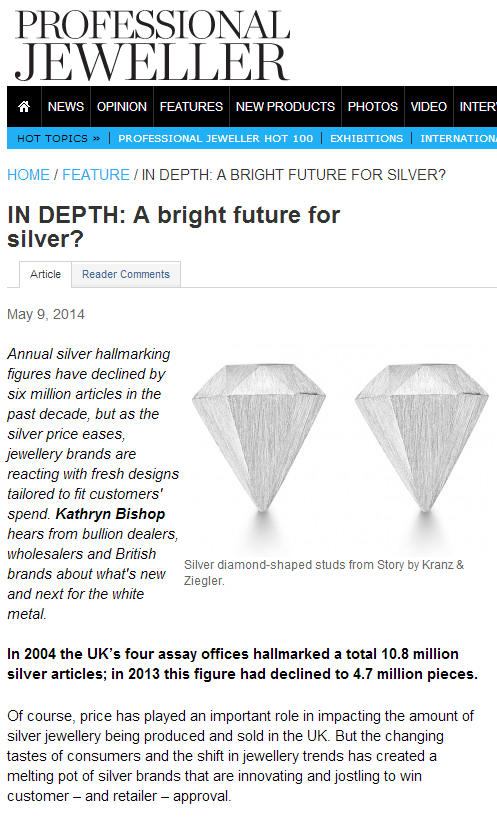 Annual silver hallmarking figures have declined by six million articles in the past decade, but as the silver price eases, jewellery brands are reacting with fresh designs tailored to fit customers' spend.

The Professional Jeweller speaks to wholesalers, British brands and bullion dealers, including Rob Halliday-Stein, founder of BullionByPost, about what's new and next for the white metal.
Despite the changing tastes of consumers and the shift in jewellery trends creating a melting pot of innovative silver brands, Halliday-Stein highlights the two types of consumers buying silver from the UK's leading online bullion dealer, BullionByPost, "We have two customers buying silver; one for long term investments – people who are tucking something away for decades mostly who don't intend to sell it anytime soon – and the people buying it for gifts. Coins and small bars are very popular for christenings still and the current prices make silver look attractive again, which is obviously a good thing in terms of gifting and jewellery."
Read the full article on the Professional Jeweller website
May 2014 | Professional Jeweller

---

Bullion deal means investors can order gold online and have it stored in a personal Fort Knox

Rob Halliday-Stein, founder of BullionByPost, speaks to the Daily Mail about offering high security, insured and allocated storage for customers buying gold bullion online. BullionByPost is partnering with secure storage firm Brink's to store gold and silver at 'an undisclosed high security UK location'.
With many investors looking to purchase valuable bullion, storing it is often a worry. Halliday-Stein says "We approached Brink's based on the quality of their services and experience in storing precious metals. It's been two years in the planning." The service allows customers to buy bullion from the BullionByPost website which is then sent directly to Brink's for secure storage.
Although the storage service is currently only available to customers buying bullion directly there is a possibility of widening it to anyone who already owns physical gold.
Read the full article on the Daily Mail website
April 2014 | Daily Mail


---

Indian silver imports fall as gold curbs ease
Professional Jeweller speaks to Rob Halliday-Stein, founder of BullionByPost, about the easing of import restrictions on gold into India and its side-effects on silver demand.
With India easing the restrictions on importing gold, Reuters have suggested that the demand for silver is likely to fall from the record high levels experienced in 2013. India, which currently accounts for 20% of the world silver consumption, tripled imports of silver in 2013 after restrictions on gold imports were put in place in a bid to cure a high current account deficit and combat illegal smuggling.
However, questions have been raised as to whether the industry should read too heavily into the situation in India. Halliday-Stein said, "The long term picture for silver is governed by so many factors it's difficult to predict" and later stated that the "fundamentals for silver are still very strong."
Read the full article on the Professional Jeweller website
March 2014 | Professional Jeweller

---
Stockings to strain with gold bullion this Christmas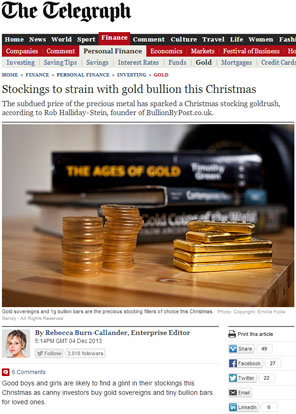 Rebecca Burn-Callander, Enterprise Editor at the Telegraph speaks to Rob Halliday-Stein, founder of BullionByPost about how subdued gold prices have sparked a Christmas stocking goldrush.

With gold prices currently at a three year low, Birmingham-based bullion dealer BullionByPost.co.uk have seen a 100 per cent increase in orders on 2012.

The rise has been mostly market-driven, with customers ordering large quantities for investment purposes, Halliday-Stein said, but the "Christmas stocking effect" has been behind a huge increase in smaller orders with BullionByPost currently seeing 500 orders a day.
Popular stocking fillers include gold sovereigns, costing just under £200, 1g gold bars, costing under £40 and Britannia silver coins, costing around £26.

Read the full article on the Telegraph website
---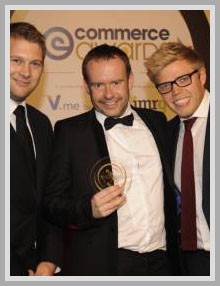 BullionByPost Scoop Best Financial Services Award

BullionByPost scoop the award for Best Financial Services at the eCommerce Awards for Excellence following another record year for sales.

BullionByPost were shortlisted in a competitive group alongside LV=, MyBank, Nutmeg, eWAY, Ukash, Avantia Group and 1st Central Insurance Management. The award was presented to BullionByPost Founder and Managing Director Rob Halliday-Stein by TV comedian and host for the evening, Rob Beckett.
View the full list of eCommerce Awards
October 2013 | E-Commerce Awards 2013


---

Gold Price Falls Fuel 'Record' Bullion Sales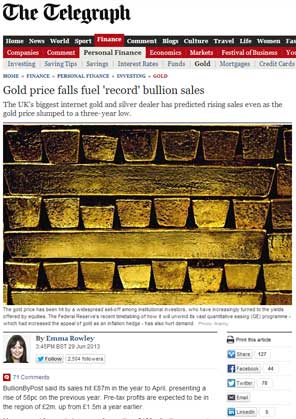 BullionByPost Founder & Managing Director, Rob Halliday-Stein tells the Telegraph how the latest gold price falls have fuelled consumer demand for gold bullion describing Friday 28th June as a 'record' day with over £1 million sales.

"For every seller there's a buyer," says Halliday-Stein. "The sellers tend to be big and fast and the buyers smaller and slower. The reason they are buying has not changed - it is because they are worried about the medium to long-term outlook for the economy, and QE."

Halliday-Stein goes on to predict that despite recent gold price falls, bullion sales will continue to grow and is very confident the popularity of gold will continue to grow as more people look to spread risk. Management forecast turnover of more than £120m for the next financial year after sales hit £87m in the year to April, 58 per cent up on the previous year.

Read the full story online at the Telegraph

Published 29th June 2013 | The Telegraph


---

BBC Radio 4 Interview Rob Halliday-Stein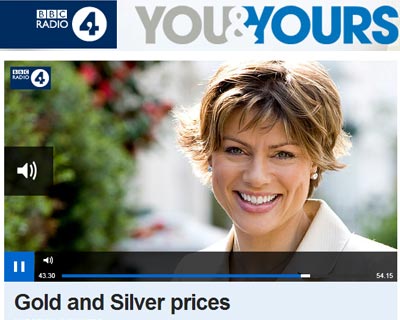 Listen to BullionByPost Founder & Managing Director Rob Halliday-Stein interviewed on BBC Radio 4 You&Yours show on how the recent gold and silver price drops have affected his growing business.

Rob explains how increased demand for gold and silver bullion has forced him to recruit new staff and seek a new larger premises in Birmingham city centre. Rob also goes on to detail how the recent price dip has resulted in an unprecedented surge in demand for physical bullion with thousands of new private investors buying gold for the first time.

Listen to the whole interview on the BBC Radio 4 website

Aired April 2013 | BBC Radio 4 You&Yours


---

BullionByPost's Gold Bars Star on BBC2 Newsnight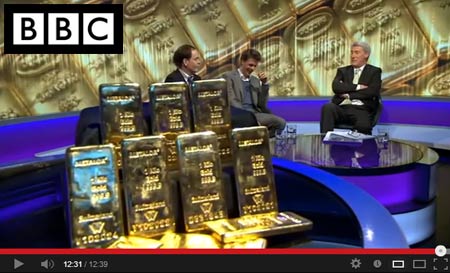 Market commentator Max Keiser (of the Keiser Report) and economist Daniel Knowles appear on Jeremy Paxman's BBC Newsnight on Wednesday 17th April to discuss the recent gold price falls alongside BullionByPost's 10 x 1KG Metalor gold bars valued in excess of £300,000.

Ex-trader Keiser continues to back gold and argues the fundamentals of owning physical gold have not changed claiming that the recent price dip offers individuals another great buying opportunity, contrastingly Knowles is pro-paper.

Watch the debate on Jeremy Paxman's BBC 2 Newsnight

Aired 17th April | BBC Newsnight on BBC 2

---

Gold Rush Brings Home the Bacon for Bullion Entrepeneur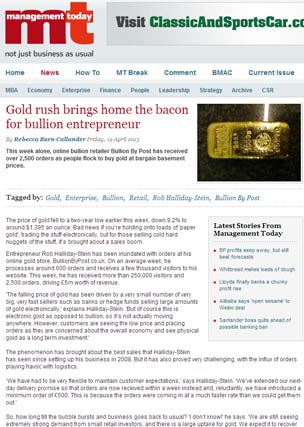 This week alone, online bullion retailer BullionByPost has received over 2,500 orders as people flock to buy gold at bargain basement prices.

The price of gold fell to a two year low earlier this week, down 9.2 per cent to around $1,395 an ounce. Bad news if you're holding onto loads of 'paper gold', trading the stuff electronically, but for those selling cold hard nuggets of the stuff, it's brought about a sales boom.

Entrepeneur Rob Halliday-Stein has been inundated with orders at his online bullion store www.BullionByPost.co.uk . On an average week, he processes around 600 orders and receives a few thousand visitors to his website. This week, he has received more than 250,000 visitors and 2,500 orders, driving £5m worth of revenue.

"The falling price of gold has been driven by a very small number of very big, fast sellers such as banks or hedge fund selling large amounts of gold electronically", explains Halliday-Stein. "But of course this is electronic gold as opposed to bullion, so it's not actually moving anywhere. However, customers are seeing the low price and placing orders as they are concerned about the overall economy and see physical gold as a long term investment." Read the full article on the Management Today site

Published 19 April 2013 | Management Today
---

Cyprus Bailout Woes Sparks Rush on Buying Gold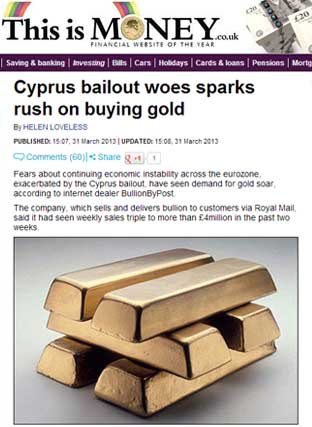 Fears about continuing economic instability across the eurozone, exacerbated by the Cyprus bailout, have seen demand for gold soar, according to internet dealer BullionByPost .
The company, which sells and delivers bullion to customers via Royal Mail, said it had seen weekly sales triple to more than £4million in the past two weeks .

It expects to record a turnover of £75million for the year to the end of April, up 40 per cent on the previous year.
The company said most of the demand has come from new customers. It also claimed to have been 'inundated' with inquiries from people living in Cyprus wanting to buy gold.
This includes Cypriots and British expats, as well as people living in the UK but with bank accounts in Cyprus.

Read the article on ThisisMoney.co.uk

Published 31st March 2013 | This is Money
---

How I Struck Gold on the Internet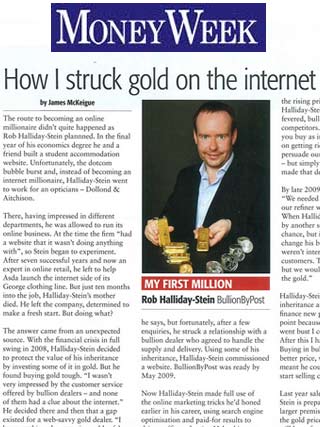 The route to becoming an online millionaire didn't quite happen as Rob Halliday-Stein planned. In the final year of his economics degree he and a friend built a student accomodation website. Unfortunately, the dotcom bubble burst and, instead of becoming an internet millionaire, Halliday-Stein went to work for an opticians - Dolland & Aitchison.

There, having impressed in different departments, he was allowed to run its online business. At the time the firm "had a website that it wasn't doing anything with", so Halliday-Stein began to experiment. After seven successful years and now an expert in online retail, he left to help Asda launch the internet side of its George clothing line. But just ten months into the job, Halliday-Stein's mother died. He left the company, determined to make a fresh start. But doing what?

Read the full article on the MoneyWeek website (MoneyWeek subscrption required).

Alternatively, view the article on the BullionByPost website .
Published 11 March 2013 | MoneyWeek
---
Striking Gold: Rob Halliday-Stein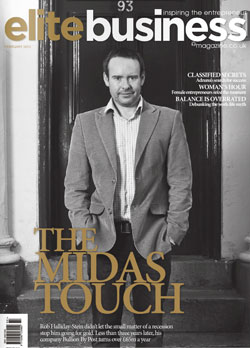 In a downturn, strong, fast-growth businesses are like gold dust: we need them if our economy is to grow and thrive. Birmingham's BullionByPost is well and truly a child of the recession.

All too often we hear about the losers of the recession; tales abound of businesses – large and small – going to the wall. Just last month, HMV and Blockbuster, two of the high street's best-known brands, hit the runners.
And then, every once in a while, a business emerges triumphant, like a phoenix rising from the ashes of our once-thriving economy. BullionByPost is one such firm. The founder of the Birmingham-based business, Rob Halliday-Stein, struck gold when he realised that the banking industry had gone to the dogs and people were looking for other ways and means to invest their cash.
Read the full article on the Elite Business website. Alternatively, view the article on BullionByPost .
Published 04 February 2013 | Elite Business Magazine
---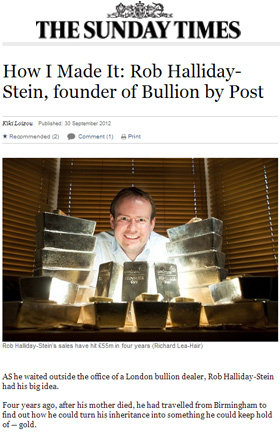 AS he waited outside the office of a London bullion dealer, Rob Halliday-Stein had his big idea.
Four years ago, after his mother died, he had travelled from Birmingham to find out how he could turn his inheritance into something he could keep hold of — GOLD .
The banking crisis was raging, and waiting with him were others wanting the safety of gold rather than money in a bank that might go bust. All were happy to pay a 5% fee for the metal. Halliday-Stein thought he could do it better — and cheaper.
In November 2008, he set up BullionByPost, an online gold and silver dealer. The business, which buys bullion from traditional dealers and delivers it to customers the next day, has gone from sales of £6m and a profit of £20,000 in its first year to a profit of £1.5m last year on sales of £55m. It is based in Birmingham and has 12 staff.
The company has handled more than 35,000 deliveries in Britain, from a £30 silver coin to a £500,000 gold shipment. The average order is worth about £3,000. Read more .
Click here to view the full article on The Sunday Times website . Please note a online subscription to The Sunday Times website is required.

Alternatively, view the full article on the BullionByPost website .
Published 30 September 2012 | The Sunday Times
---
Entrepreneur Q&A: Rob Halliday-Stein, Founder of BullionByPost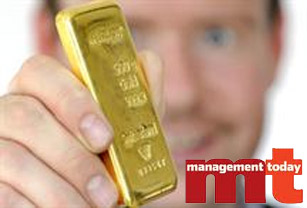 Meet the man who's shaking up the staid gold bullion industry with a user-friendly, online shop. Rob Halliday-Stein, founder of BullionByPost, on the recession, the problem with diamonds, and The Italian Job.
Gold is all the rage these days. Seen as a safe investment, the precious metal has spawned a raft of businesses of the pawnbroking ilk.: 'We pay cash for gold!' scream advertisements. But there is another industry quietly making a mint off the back of the new gold rush: bullion traders. Management Today caught up with Rob Halliday-Stein, Founder & MD of BullionByPost to find out whether all that glisters really can make you pots of gold…

ManagementToday: What does BullionByPost do, in a nutshell?

Rob Halliday-Stein: We sell gold and silver bars and coins to individuals over the web. We buy the gold from the big, European refineries – Umicore and Metalor are two of the largest – and most of our coins from the Royal Mint, pay wholesale prices, and sell it on. It's a straightforward mark-up business. Click here to view the Q&A

Click here to view the full Q&A with Rob Halliday-Stein on the Management Today website
Published 11 September 2012 | Management Today
---
Real Wealth in Your Hands
Protecting your portfolio with physical gold could be the ultimate insurance for turbulent times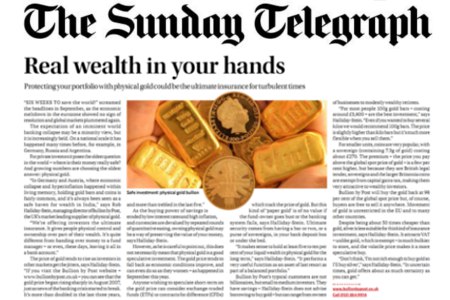 "SIX WEEKS TO save the world!" screamed the headlines in September, as the economic meltdown in the Eurozone showed no sign of resolution and global markets plummeted again. portfolio with physical gold could be the ultimate insurance for turbulent times
The expectation of an imminent world banking collapse may be a minority view, but it is increasingly held. On a national scale it has happened many times before, for example, in Germany, Russia and Argentina.
For private investors it poses the oldest question in the world – where is their money really safe? And growing numbers are choosing the oldest answer: physical gold . Click here to view the full article
Click here to view the full Precious Metals Report sponsored by Bullion by Post, published by Lyonsdown and distributed within The Sunday Telegraph
Published 6 November 2011 | The Sunday Telegraph | Precious Metals Report
---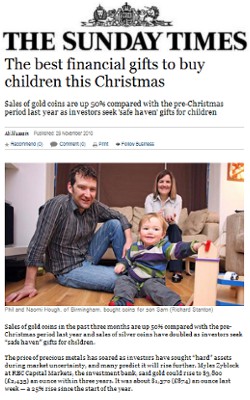 The Best Financial Gifts to Buy Children this Christmas
Sales of gold coins are up 50% compared with the pre-Christmas period last year as investors seek 'safe haven' gifts for children
Sales of gold coins in the past three months are up 50% compared with the pre-Christmas period last year and sales of silver coins have doubled as investors seek "safe haven" gifts for children.
The price of precious metals has soared as investors have sought "hard" assets during market uncertainty, and many predict it will rise further. Myles Zyblock at RBC Capital Markets, the investment bank, said gold could rise to $3,800 (£2,435) an ounce within three years. It was about $1,370 (£874) an ounce last week — a 25% rise since the start of the year.
Simon James at Moneysupermarket, the comparison website, said: "With households having to tighten belts, a gift that also offers some financial benefit is likely to be well received this Christmas."
Click here to view the full article
Published 28 November 2010 | The Sunday Times
---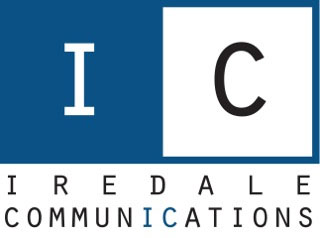 Press & Media Enquiries
BullionByPost are the UK's No.1 online bullion dealers*. If you are a journalist and have a media enquiry please contact our PR Agency, Iredale Communications:
Will Iredale
Email:
will@iredalecommunications.com
Tel: 07921 697 282
Anna Nalborczyk
Email:
anna@iredalecommunications.com
Tel: 07545 210 856